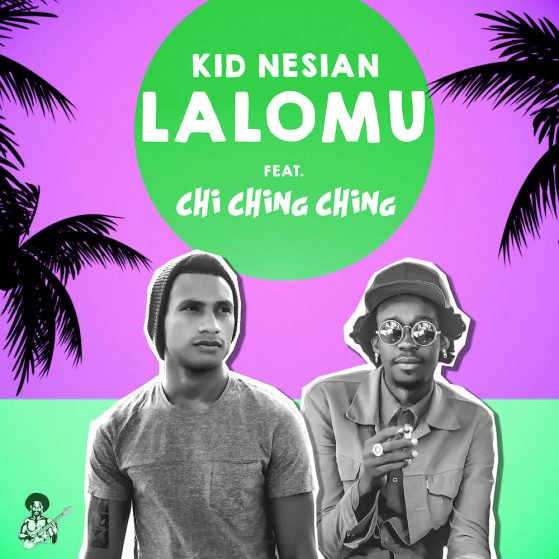 Kid Nesian Collabs with International Dancehall Artist Chi Ching Ching
Kid Nesian, the fast rising reggae sensation from Papua New Guinea, has collaborated with international dancehall star Chi Ching Ching for his latest release – "Lalomu".
It's been an interesting journey for the young 21 year old reggae singer. It was only 12 months ago when he put out his very first single "Stap Wantaim Yu" with his record label CHM Supersound. And since then his songs have hit no.1 on the Pacific Top 20 Charts, have charted in the Top 10 of the Australian Top 25 Reggae Charts, have received airplay from Reggae radio stations in the US, Europe and Latin America and have dominated radio stations around the South Pacific.
Kid Nesian is excited to be collaborating with the Jamaican dancehall star on his latest release, saying "I'm a big fan of Chi Ching Ching's music, so I was super excited when he agreed to jump on the track. His style is so unique and I love the energy and vibe he brought to the song."
Chi Ching Ching, himself a rising star in the Reggae/Dancehall scene, is the first artist signed to Dutty Rock Productions, the label owned and founded by multi-platinum music superstar Sean Paul. He recently featured on Sean Paul's hit song 'Crick Neck' (10M views) and recently toured around Europe with him. Chi Ching Ching will be releasing his own debut album this year.
"Lalomu" is an Island/Jawaiian reggae track that features beautiful harmonies and RnB vocals from Kid Nesian fused with Jamaican stylings from Chi Ching Ching. It is sung in both English and Motu. "Lalomu" is a Motu/PNG expression meaning "I'm Yours".
The song will be released worldwide on Fri 27th April 2018 and will be available on all major music platforms for streaming and downloads.
Listen to the song on Spotify